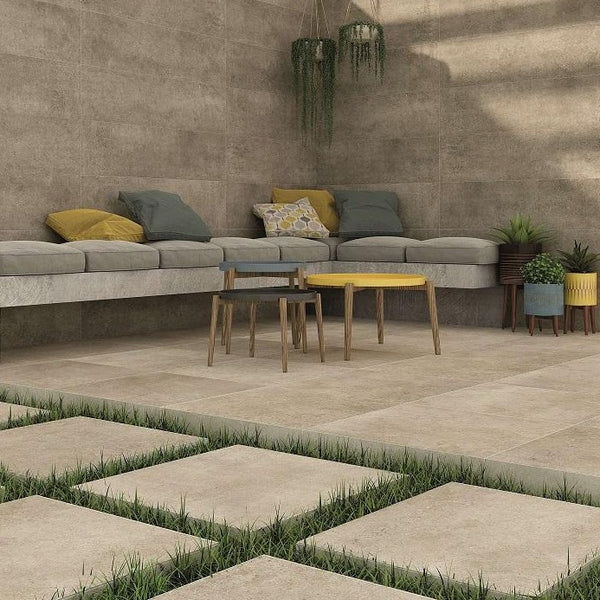 Materia Taupe Outdoor Tile 61 x 61 cm
The Materia Taupe Floor Tile is a greige coloured limestone effect tile, produced in an extra thick format especially for use outdoors.
The 20mm porcelain body of the tile is so strong that the tile can be set into sand, suspended on pedestals, or even just laid down on soil or grass without fear of breaking from regular wear and tear. 
Of course it can also be installed like a regular tile on a bed of adhesive over a concrete slab.
This Materia tile has high slip resistance rating of R11, making it a safe choice for your patio or driveway. There is no maintenance required in terms of sealing or sanding, the glazed surface of the tile cannot stain or be discoloured by moss or other organic material - a simple hosing will always clean it up as good as new.

Read more about outdoor tiles here.
| | |
| --- | --- |
| Price incl. VAT | €45 / square metre |
| Tile Size: | 61 x 61 x 2 cm |
| Material: | Porcelain |
| Finish: | Matt |
| Colour: | Grey / Beige |
| Slip Resistance | R 11 |
---